Early Intervention Orthodontics in Lower Plenty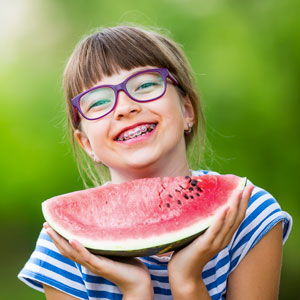 As early as 6 or 7 years old, children may start showing signs of orthodontic problems such as crowding of the teeth and bite irregularities. Due to factors such as genetics, early loss of baby teeth or habits like thumb sucking, a child's teeth may begin to shift out of alignment. At Majestic Smiles, we offer early intervention orthodontic treatment to promptly address any potential issues.
The teeth and jaw are still developing during childhood years. By taking advantage of this development, we can address certain conditions that are easier to take care of now than in the future, when more serious and costly treatment may be required.
Avoiding More Serious Dental Problems
The solutions we offer for early intervention include functional appliances, which can shorten the treatment your child needs during their teenage years. Kids' braces can also be applied that can correct irregularities in the bite. These irregularities can be present as early as birth or they may develop in the toddler or early childhood years.
Though crooked teeth may seem innocent in a young child, they can cause more severe conditions as the child gets older. Furthermore, they can diminish your child's self-esteem and make it difficult for them to brush and floss, resulting in less-than-optimal teeth and gum health.
The Importance of Regular Checkups
Children should visit the dentist twice a year just as adults do. Our gentle team welcomes all ages of kids, and we enjoy teaching them how to take care of their teeth and gums. It's beneficial to your child to become familiar with the dentist at an early age so that they don't feel uncomfortable or fearful about their appointments. At these checkups, we'll evaluate the need for early intervention orthodontics and make any necessary recommendations.
Get Started Today!
Contact us today to schedule your appointment or to learn more about how early intervention Lower Plenty may benefit your child! We accept health funds and process rebates on-site with HICAPS.
Any surgical or invasive procedure carries risks. Before proceeding, you should seek a second opinion from an appropriately qualified health practitioner.

Children's Orthodontics Lower Plenty
Montmorency, Greensborough, Viewbank | (03) 9439 6030