Mouthguards Lower Plenty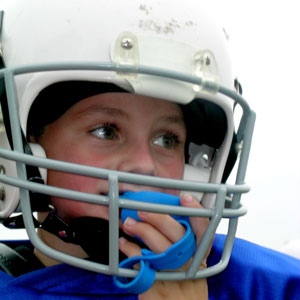 At Majestic Smiles, your entire family can find the dental solutions they need to improve and maintain their oral health. If you are active in a sport or have jaw pain and headaches from grinding and clenching your teeth, we offer custom-created mouthguards that will protect your smile from damage.
Mouth Guards for Sport
Activities such as rugby, football or cricket can involve trauma to the mouth. If your teeth are unprotected, they may chip, fracture or break. You can continue participating in your high-contact sport without worry by having a mouthguard fabricated to fit you perfectly. With a close fit, they reduce the risk of injury.
Custom-fitted mouthguards are recommended for people participating in high contact sports and leisure activities, they are personalized to your mouth and teeth and allows for a close fit which reduces the risk of dental injuries whilst participating in sports.
Custom-fitted mouthguards are preferable to store bought ones that typically involve a heat-and-bite fit. These mouthguards don't offer the same level of protection as our custom guards. Another disadvantage of over-the-counter mouthguards is that they don't fit snugly. As a result, they don't adequately protect the mouth or face in the event of trauma or injury.
Though you can find mouthguards in many retail shops, they offer an inferior level of protection since they're not created for you by a dental professional. They typically involve a bulkier fit that won't adequately protect your mouth.
Mouth Guards for Grinding
Those who wake up with jaw and facial pain or experience headaches may be grinding or clenching their teeth in the night. Though you may not know you're doing it, grinding, also called bruxism, can take a toll on your teeth. It's thought that stress and anxiety are the cause of grinding. The result is teeth that are worn down, cracked or chipped.
If you have invested in veneers, crowns or other dental work, you may be wasting the money you've spent on improving your smile due to damage from grinding. By creating a night guard, also called an occlusal splint, you can prevent pain and damage. A mould is employed to take impressions of your teeth, which can then be used to create your device.
Book Your Appointment Today!
We are providers for Medibank Private and Bupa. We offer HICAPS on-site for immediate rebate processing. The Child Dental Benefits Schedule is accepted at our practice. Contact us today to learn more about mouthguards Lower Plenty!
Any surgical or invasive procedure carries risks. Before proceeding, you should seek a second opinion from an appropriately qualified health practitioner.

Custom-fitted Mouthguards Lower Plenty
Montmorency, Greensborough, Viewbank | (03) 9439 6030